NALEDI MOTORS – OUR PAST, PRESENT AND FUTURE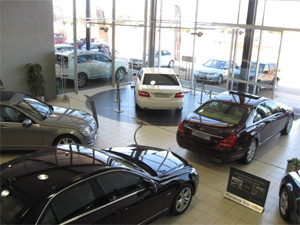 The names of Daimler and Mercedes-Benz are acknowledged worldwide as representing German automotive technology and innovation at their very best, both in their luxury saloons and SUVs and their extensive range of tough, reliable commercial and military workhorses. During the 20th century Daimler-Benz trucks and all-terrain vehicles proved ideal for Africa's tough, testing conditions, making it the number one choice for one of the continent's most demanding terrains – Botswana. From independence in 1966 demand grew quickly for the world's premiere automotive range, both private and commercial and in 1973, the Mercedes dealership was first established, under its former name of British Auto. Later re-named Naledi Motors, our Tlokweng site has been the home of Daimler-Benz in Botswana since that time, making us not only the country's leading dealership but also its longest-established. We can therefore rightly claim more than any other motor marque to have contributed hugely in every aspect of the nation's development, providing the toughest and most versatile commercial vehicle to range to keep the wheels of commerce running smoothly. Mercedes-Benz vehicles are the mainstay of mining, agriculture, transportation, distribution, communication and infrastructure support and development and the distinctive 3-pointed star (or 'naledi' in Setswana') is arguably Botswana's best-loved and most trusted brand. And as the country's citizens claimed their stake in the nation's success, demand also grew for the precision-engineered, high-performance range of luxurious, reliable private vehicles for both business and pleasure.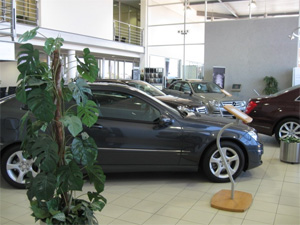 The dealership was further enhanced with the addition of the American Jeep Chrysler Dodge marques and Mitsubishi Motors from Japan. The iconic Jeep name and instantly-recognisable logo was the world's first SUV, born of necessity in World War II, and afterwards offering off-road exploration and enjoyment for the first time to the general public. What better vehicle range, then, for Botswana where tar roads are still a luxury and the bush is the country's playground? Chrysler is synonymous with comfortable, powerful, uniquely trans-Atlantic-styled sedans whilst Dodge has acquired a reputation for automotive innovation and driving fun. Mitsubishi also traces its origins back to the tough demands of the battlefield but in more recent times it has become the mainstay of the world's toughest rallying challenges, necessitating the development of cutting-edge off-road and high-performance capabilities, along with proven Japanese reliability and strength, inimitable style and luxury. These additional marques means that Naledi Motors now has the answer to each and every automotive question and the ideal vehicle for every customer and car owner in the country.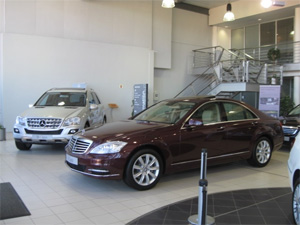 In the mid-nineties Naledi opened a second branch in Francistown. This central hub is ideally situated to serve and service our northern customer base, offering greater proximity to the country's all-important, mining, agriculture and tourism centres. In addition, we are currently undergoing a major re-building programme to our flagship Tlokweng premises, due for completion in early 2011, in order to continue offering the quality service, customer care and attention to detail on which our reputation has been built.
For news and updates on our product range, special offers, customer appreciation deals and other important branded information, please keep checking our website.
Welcome to Naledi Motors!